Drug Control in Bolivia – New Memo from AIN and WOLA
The Washington Office on Latin America (WOLA) and the Andean Information Network (AIN) are pleased to share with you the latest in a series of memos on drug control policy in Bolivia. Please follow the links to the memos, both of which were written by Coletta Youngers and Kathryn Ledebur, and are summarized briefly below.

In March 2008, the International Narcotics Control Board (INCB, a United Nations agency) provoked outrage in Bolivia by calling for the elimination of traditional uses of coca, such as chewing coca leaves and drinking coca tea. Dismayed by the lack of sensitivity to indigenous cultures, President Evo Morales' government announced that it would formally request coca's declassification as a narcotic drug, as it is presently listed in the 1961convention. Such a move would have no bearing on the status of cocaine under the conventions.
The Bush administration has been highly critical of the Morales administration's approach to coca, even while acknowledging Bolivia's intensified cocaine interdiction efforts. Historically, the U.S. government has, as a practical matter, recognized the legitimacy of traditional uses of coca. But recent U.S. statements in support of the INCB condemnation of coca chewing and coca tea raise the question as to whether the U.S. stance is shifting towards the radical position laid out by the INCB. Such a shift would place the U.S. government dramatically at odds with Bolivia, throwing up additional obstacles to cooperation on what remains an important issue to both countries. The U.S. government should now formally clarify its position on this matter. Does the U.S. indeed endorse the INCB call for Bolivia and Peru to outlaw and eliminate traditional uses of coca? Or does the U.S. continue to recognize the legitimacy and legality of traditional coca uses?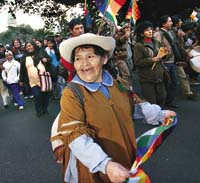 Balancing Act: Bolivia's Drug Control Advances and Challenges

Bolivian President Evo Morales's "coca yes, cocaine no" policy, which seeks to make a clear distinction between coca and cocaine, is now in its third year. A fundamental pillar of the policy is cooperative coca reduction in the Chapare coca growing region and the extension of this approach into areas previously unaffected by forced coca eradication. While the Morales administration's strategy has been met with skepticism by U.S. officials, the cooperative reduction approach may prove to be more successful in the long term in containing coca production than the previous forced-eradication strategy. The Bolivian government is now facing serious challenges in carrying out its coca reduction strategy in the La Paz Yungas and in other areas of new coca planting.
There is growing international recognition of the need for a more effective approach to reducing crops destined for the illicit drug market – one which focuses on promoting alternative livelihoods and improved overall quality of life. Presently, the UN is carrying out an evaluation of the progress made over the last ten years in illicit drug consumption and production. This review period is an appropriate moment for the U.S. government, other UN Member States, and the UN drug control bodies to reassess drug control strategies and work towards more humane and ultimately more effective alternatives by:
. Recognizing the failure of forced eradication policies to
sustainably diminish the cultivation of coca destined for the illicit market;
. Supporting sustainable and integrated development efforts, without
conditioning assistance on coca reduction, in Bolivia and other coca-producing countries;
. Advocating the removal of military forces from crop reduction
efforts; and
. Recognizing and addressing the inconsistencies and contradictions in existing international drug control treaties regarding the coca leaf