"WHAT IF CANNABIS CURED CANCER" wins 2010 Stony Award from High Times Magazine (featured in February 2011 issue).

FROM THE HUFFINGTON POST:
"I recommend an excellent documentary film, "What if Cannabis Cured Cancer," by Len Richmond, which summarizes the remarkable research findings of recent years about the cancer-protective effects of novel compounds in marijuana. Most medical doctors are not aware of this information and its implications for cancer prevention and treatment. The film presents compelling evidence that our current policy on cannabis is counterproductive."- ANDREW WEIL, M.D.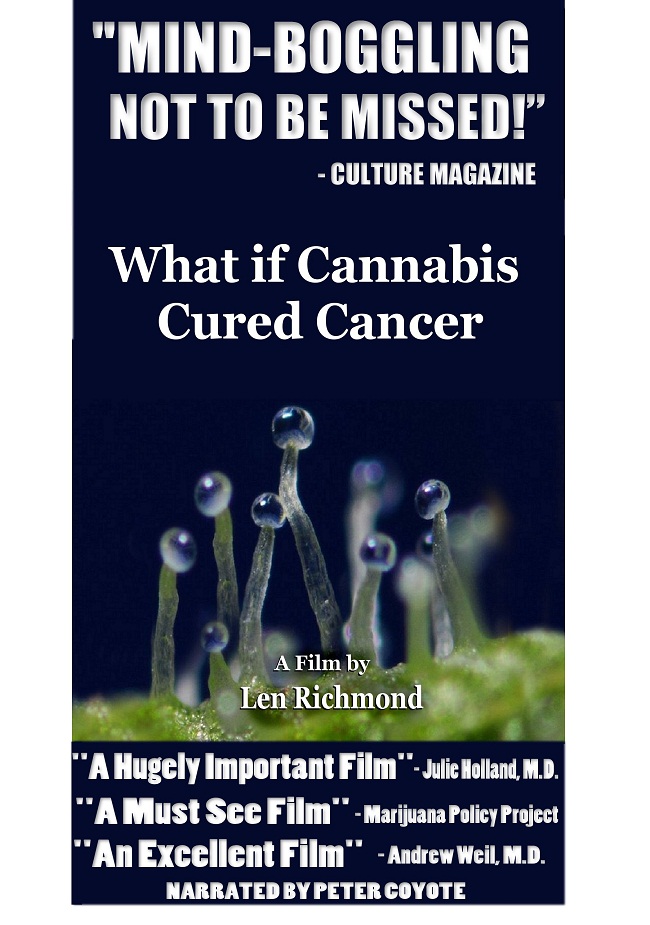 Using original and archival footage, the 60 minute documentary presents highly convincing evidence that this forbidden herb has healing properties beyond any other plant on the planet— interacting as it does with the body's own "endocannabinoid system" to keep us fit and disease-free. "What if Cannabis Cured Cancer" explains how we are all born with a form of marijuana already in our bodies, and when pot is consumed, the "endocannabinoids" inside us—along with any cannabinoids we ingest—fit together like a key in a lock, thereby promoting the death of cancer cells without harming the body's healthy cells. A powerful and eye-opening film about the future of cannabis—and perhaps even the future of medicine.
Featuring interviews with DR, ROBERT MELAMEDE, DR. SEAN MCALLISTER, DR. JEFFREY HERGENRATHER, DR. DAVID BEARMAN, DR. MANUEL GUZMAN, DR. RAPHAEL MECHOULAM, and DR. DONALD ABRAMS
"One of the most polished, informative films on cannabis released in years." –CULTURE MAGAZINE
Winner of the "Best Documentary" at the Williamsburg Film Festival.
Winner of the "Reel Peace Award" at the Berkeley Film Festival.
DVD's have been provided to every member of the Los Angeles City Council, the Kansas State Legislature, the Marin County Board of Supervisors, and 100 selected members of Congress in Washington D.C.
Panel Discussion at the Sausalito Film Festival
Profile in Whole Life Times Magazine
Interview in Cannabis Culture Magazine
MEDIA CONTACT: Len Richmond Films
2629 Main Street #116
Santa Monica, CA. 90405