On Saturday the 6th August 2011 the Hanfparade want to demonstrate with you in Berlin for the legalisation of Cannabis as medicine, raw material and natural stimulant. The demonstration starts at 1 p.m. next to "World Time Clock" at (Station) Alexanderplatz with the motto "40 Jahre sind genug – BtMG ade!" (40 years are enough – Bye Bye BtMG!).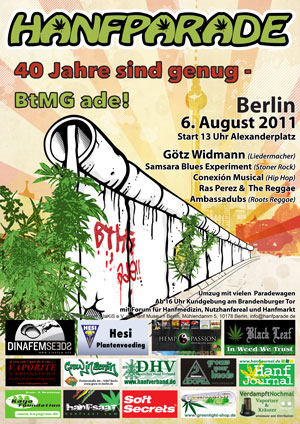 The German Narcotics Act ("BtMG") has caused millionfold suffering since its introduction on 24.12.1971. In 2009 alone more than 134.000 proceedings against Cannabis users have been opened, mainly (~80%) dealing with consumer offences only. More than 18.000 people are presently in jail for the low-risk natural stimulant Cannabis. This madness must stop!
We demand: Abolish BtMG! Cannabis prohibition has long caused so much more misery than a legal hemp market ever could.
Although registering the demonstration has been the first step, it is still a long way from becoming a colourful and powerful event. Help us make the Hanfparade a success. Help us legalise Cannabis! Support the biggest German demonstration for the legalisation of Hemp as a sponsor, work in the organisation team or spread the word and make the Hanfparade more known in your region.
Whoever is in favour of an end to prohibition and the "war on drugs" or even just wants to get factual info, is hereby called upon to support our demands and enrich the biggest German demonstration for the legalisation of Cannabis with your participation.
More Information on: en.hanfparade.de