Normally, today, January 24th, there would have been held a courtcase in appeal that the association Trekt Uw Plant/Draw Up Your Plant and 5 of its members have initiated against the verdict against them of April 25th 2007. But due to urgent matters the Court of Appeal has decided to postpone the case until Thursday June 12th, 2008, at 10 AM.

What is this all about?

On December 12th 2006, 6 members of Trekt uw Plant presented in the Botanical Garden in Antwerp a plantation of 6 cannabis plants. In the setup of this collective plantation, the association had strictly followed the ministerial directive that was signed in January 2005 by minister Onkelinx and all chief prosecutors of Belgium. This directive estipulates that the possession of max. 3 grammes or one cannabisplant by an adult person is no longer prosecuted, unless the public order is disturbed or any aggravating circumstances are in place. Therefore Trekt Uw Plant had requested (and obtained) permission for the presentation of the Antwerp municipal authorities, after favourable advice by local police, section public order.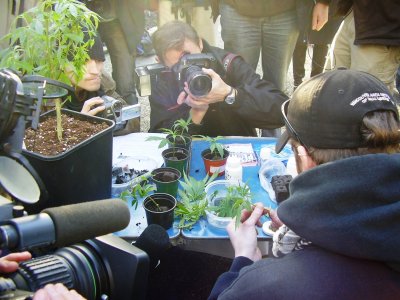 However, the Antwerp District Attorney's Office, represented by substitute-prosecutor Olivier Lins, decided to prosecute the association . The plantation was confiscated and destroyed, and on March 28th 2007 the first courtcase against Trekt Uw Plant took place in the Correctional Court of Antwerp. There, Lins maintained that the ministerial directive should not be applied in this case, as Trekt Uw Plant could be considered as a "criminal organisation", which should be noted as an "aggravating circumstance".
The verdict of the Correctional Court on April 25th april 2007 nullified this argumentation: Trekt Uw Plant is not a criminal organisation, but its members could be condemned notwithstanding: possession of cannabis remains illegal. In its sanctions (3 members were exempted of any sanctions, 2 received a fine of 15 euros each) the court made clear that this verdict should mainly be considered as symbolic.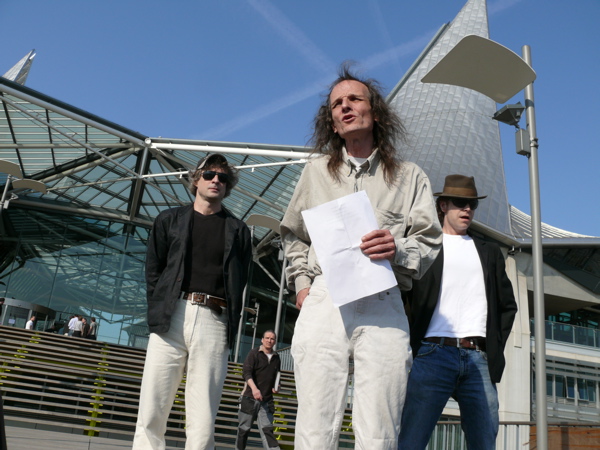 Of course Trekt Uw Plant appealed this verdict. Any condemnation of our initiative represents a juridical annulation of the ministerial directive, a decision that came about after many years of discussions between policticans and experts. The conclusion of these discussions, in January 2005, was that cultivation and possession of cannabis for personal use should no longer be persecuted. Trekt Uw Plant has put in practice this line of thought by the lawmakers.
In the past months, it has become clear that also representatives of the Belgian police implement the ministerial directive. Police commissioner Lambrechts of Brasschaat was stated in the "Nieuwsblad" of August 11th 2007: "Every Belgian citizen may grow his own cannabisplant", And commissioner Jean-Marie Samyn of policezone MIDOW in Meulebeke said in the "Nieuwsblad" of September 14th 2007: "It is perfectly allowed to grow some hemp plants in your garden for personal use".
By prosecuting "Trekt Uw Plant", the Antwerp DA in fact defends the interest of the criminal organisations trading in drugs. Yet, if the approx. 350.000 Belgian cannabis consumers are not allowed to grow for personal use, they will be forced to provide themselves on the illegal market, where they have to face a criminal environment. Due to the lack of control on production and distribution, they run the risk of receiving adulterated cannabis with products such as glass, paint and DDT, which cause very serious (and perfectly avoidable) damage to public health.
The actions of the Antwerp DA also contributes directly to the public nuisance caused by Belgian drug tourists to the coffeeshops in the Netherlands. These coffeeshops are the only remaining alternative to the illegal cannabis market, though the Belgian consumer who buys his cannabis in Holland still runs the risk of being accused of drug smuggling. That is also the case of people who use cannabis as a medicine against pain and other problems, and who get a prescription for cannabis of their Belgian doctor.
The maintenance of cannabis prohibition is generally justified by the need to protect young people. However, especially minors run the danger to be confronted with the risks of an illegal market in cannabis. In tobacco shops people have to prove they are over 16 years. Most drug dealers don't have a problem with that.
Besides, the ban on cannabis is abused by police and justice to criminalise certain groups of young people. Especially youngsters from migrant communities in Antwerp are often accused of creating "drug-related public nuisance". In the future we may expect, as described by the city council's "Plan For A Safe City" more actions against these youngsters in so-called "hotspots": Borgerhout, Berchem, Kiel and Hoboken. As a consequence, a large part of our prison population consists of youngsters from migrant communities with drug related offenses as major motive for their verdicts. Thus, the impression arises that the migrant communities are somewhat "more criminal" than the native population.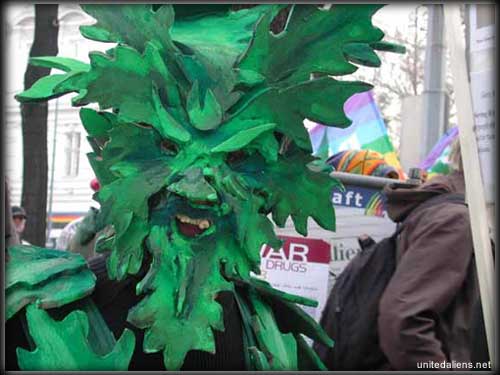 Any verdict against Trekt Uw Plant is a gift to the illegal drug traffickers. These do not take into account the need to avoid or solve problems like use by minors, health risks or community nuisance. Trekt Uw Plant was founded to solve these problems, but due to the attitude of the DA, this is made impossible.
Obviously, we will appeal any verdict. We are ready to maintain a long struggle to obtain our right, if necessary until the European Court of Justice in Luxemburg. And we call upon all Belgians who consume cannabis and who agree with us to become a member of Trekt Uw Plant, this is possible for only 25 euros/year.
On behalf of Trekt Uw Plant vzw
Philippe De Craene / Joep Oomen
Tel +32 495-122 644

Republish