THE ENCOD BULLETIN ON DRUG POLICY IN EUROPE
NR. 35 NOVEMBER 2007
KNOWLEDGE WILL WIN THE WAR

In a recent interview with an Austrian film-crew (see www.war-on-drugs.com), Kevin Whaley, Chief of International Programmes of the US Drugs Enforcement Administration, was quoted as saying: "I don't like the term 'war on drugs'. You know why? Because wars always tend to have a beginning and an end. Our fight against drugs will never end."
This statement says it all. The war on drugs is not meant to be won, it is meant to be waged eternally. Logically, those who lead this war will do everything to keep the tax payers ignorant about the real impact of a worldwide operation that according to Ethan Nadelmann (Drug Policy Alliance) is costing at least 100 billions of US dollars per year. Therefore, the more people are informed and mobilised to openly question prohibition as the answer to drug problems, the more the days of this monument of human stupidity will be numbered.
In the history of mankind, moralistic arguments have nearly always lost their value when countered by increased awareness. Of course, it might take longer to dismantle these arguments when they are backed by considerable economic interests. There might even be a backlash, such as is currently taking place in the Netherlands. On 12 October, Dutch Minister of Public Health Ab Klink finally decided to propose a ban on the sale of fresh psilocybin mushrooms, in spite of recommendations made by his own advisors.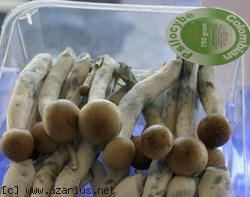 According to the Coördinatiepunt Assessment and Monitoring for new drugs (CAM), the most important consultory board for Klink, the use of magic mushrooms 'produces such a low risk for the individual health and society in general that a ban is far too severe a measure in relation to the nuisance and harm caused by current use'. In June, Klink still agreed with this analysis. However, after a summer in which the Dutch press repeatedly exaggerated and manipulated reports on incidents with tourists in Amsterdam who (perhaps) had eaten mushrooms, combined with the cry for a ban made by conservative MP Fred Teeven, a former public prosecutor who became a celebrity after he did some major drug cases, Klink now believes his own advisors are 'unrealistic'.
The decision means several smartshops in the Netherlands will have to close their doors shortly. Some Dutch reformers even think that in some years the same will happen with cannabis and that in 10 years from now there will be no coffeeshops left. At the moment it seems hard to imagine that any democratic society would accept such a breakdown of achieved liberties that would completely ignore the available scientific and practical evidence. But when it comes to the war on drugs, everything seems to be possible.
In Switzerland, hemp farmer Andre Fürst started a hungerstrike on October 27th to protest against the continuation of the preventive detention he has been kept in since his arrest on September 9th. Authorities are investigating if they can link him to other cases than the one he received a 29 months sentence for, and which he is ready to fulfill. The judge had ordered to release Fürst on October 26th, as according to Swiss legal regulations, his preventive detention period is over. He would then have been allowed to spend some days in freedom to arrange some practical things before starting on the 29 months jail sentence. However the prosecutor is opposing this decision. Everyone is requested to sign and send letters to the Swiss authorities asking them to review André Fürst's case.
The night is always darkest just before dawn. In Italy, there are very obscure sides to the story of 44-years old Aldo Bianzino, who was arrested on 12 October for a minor cannabis plantation. Bianzino, living a peaceful life with his partner and 3 children in a small village in Umbria, was taken to prison in Perugia in perfect health. Two days later, he was dead. Unconfirmed reports of the cause of death are massive brain and belly injuries, perhaps a couple of broken ribs, even though the body did not show blood signs and bruises. ENCOD has prepared a letter to Italian authorities asking to investigate the case.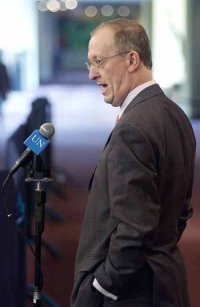 The atrocities that are committed daily in the war on drugs can only be covered up if the responsible authorities, such as Executive Director Antonio Maria Costa of the UN Office on Drugs and Crime (UNODC), are willing to commit gross manipulations of the truth. According to Costa's speech to the UN on 10 October, the whole world is under attack by drug traffickers, and governments need to strengthen the legal apparatus as well as long-term socio-economic development to defend themselves.
This argument may still sound reasonable to anyone who is unfamiliar with the ordeal of Colombian farmers being sprayed with lethal chemicals that are meant to kill their coca crops, or the social background of prisoners serving life sentences in the US because of non-violent and minor drug charges. But as soon as the truth starts to leak through to the public debate, Costa's declarations will be compared with those of Joseph Goebbels, Hitler's chief of propaganda.
From March 10 2008 onwards, the UN Commission on Narcotic Drugs will meet in Vienna to evaluate the results of the 10 year strategy adopted in 1998 to obtain a significant reduction in the supply and demand for illicit drugs. In line with the views expressed by DEA's Kevin Whaley, UNODC's spin doctors have replaced the word "reduction" with "containment" in their official communication on the 2008 deadline. Obviously this formulation undermines the whole purpose of the evaluation, as it is of course much more difficult to define success or failure when one tries to contain instead of reduce.
Therefore, ENCOD plans to present our own "evaluation" in a three-day event that will take place on 7, 8 and 9 March 2008 in Vienna. The programme will include a conference on the reasons behind prohibition of drugs, a demonstration at the UN building and an exposition on the beneficial use of illegal plants. We hope to welcome many ENCOD members in Vienna, and can offer free or cheap accommodation during these days to those members who register before November 20th , 2007.
The three days in Vienna will be an expression of both sadness and hope, aimed at all those who believe drug prohibition is here to stay,
because it either should or cannot be modified. Fighting a war on drugs can only be supported by those who are
either unaware of or unburdened by the facts. As long as there are
people willing to speak out against prohibition in a dignified
manner, there is hope that one day human intelligence and dignity will
prevail.
By Joep Oomen (with the help of Peter Webster)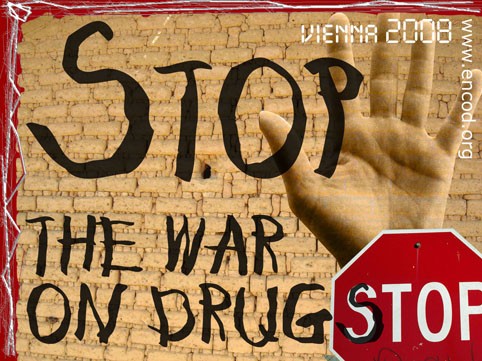 Republish