ENCOD míří s bojem za spravedlivou drogovou politiku do Vídně na setkání Komise OSN pro omamné látky
Tisková zpráva ENCOD
Překlad: Michal Řehák

ANTVERPY, 20. 2. 2014 – Evropská koalice pro spravedlivou a efektivní drogovou politiku (ENCOD) se aktivně zúčastní každoročního zasedání Komise pro omamné látky OSN ve Vídni (13. až 21. března).

Pět zástupců ENCODu se zapojí do diskuze a bude zřízeno alternativní mediální centrum, které bude informovat o průběhu jednání a převratném vývoji reformy drogových politik po celém světě. Během zasedání vysokých představitelů Komise pro omamné látky OSN vysadí členové ENCODu rostliny konopí přímo před vídeňským sídlem OSN.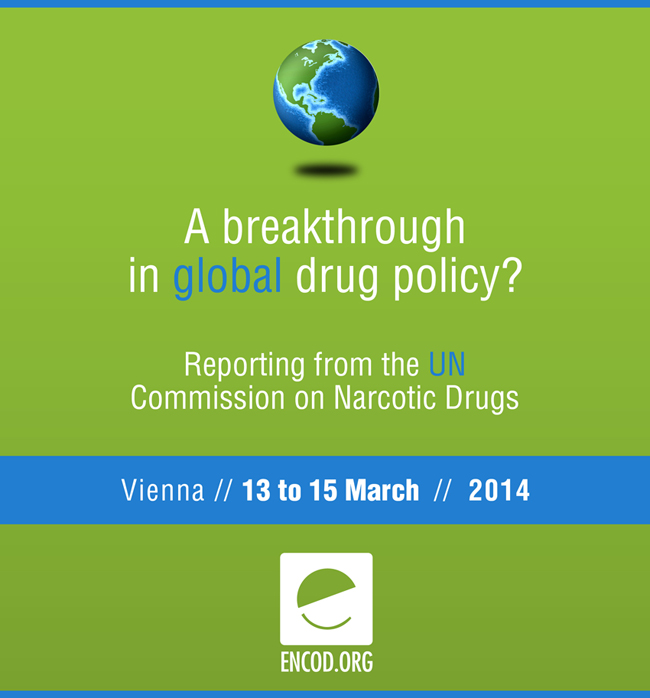 Chod tiskového centra ENCODu budou zajišťovat členové organizace z různých evropských zemí a zkušený mediální tým složený z redaktorů, kameramanů, televizních producentů a specialistů na sociální média. Ti vyprodukují články a rozhovory, které budou publikovány na internetu společně s tiskovými zprávami a živým zpravodajstvím na Twitteru. Koordinátor ENCODu Joep Oomen vysvětluje: "Chceme ukázat, co se v Komisi pro omamné látky OSN děje v tomto klíčovém historickém období, kdy se země jako Uruguay, Španělsko a Spojené státy odvracejí od represívní strategie války proti drogám a nahrazují ji pragmatickými, regulačními modely."
Mezi členy delegace ENCODu budou také americký autor Doug Fine (autor knih
Hemp Bound a Cannabis and the New Green Economic Revolution), Dionisio Nuñez (bolivijský exministr pro záležitosti koky), Urki Goñi (předseda organizace Ehkeef – Federace konopných společenských klubů v Baskicku), slovinský aktivista Janko Belin a koordinátor ENCODu Joep Oomen z Belgie.
Během jednání vysoce postavených činitelů Komise OSN na tomto 57. pravidelném zasedání ve dnech 13. a 14. března vysadí členové ENCODu řízky konopí (legálně prodávané v několika vídeňských growshopech) na trávníku před vchodem do městečka OSN, čímž oslaví průlomové události na konopném kolbišti v několika zemích a oblastech ve světě. Joep Oomen k tomu dodává: "Drogová prohibice se ukázala být totálním selháním a válka proti drogám je stále více vnímána jako neúčinná a škodlivá politická strategie, která problémy spíše vytváří a zhoršuje, než aby je řešila. Komise pro omamné látky OSN nemůže nadále pokračovat, jako by se nic nedělo. Poselství je jasné: potřebujeme skutečnou změnu a potřebujeme ji hned."
Rakouská a mezinárodní média jsou srdečně zvána do tiskového centra ENCODu k rozhovorům s experty a aktivisty ze čtyř světadílů a k bližšímu seznámení se s ENCODem a nejnovějším vývojem v oblasti mezinárodní drogové politiky. Kontaktujte nás prosím s předstihem na e-mailu
office@encod.org
ENCOD, mezinárodní organizace se sídlem v belgických Antverpách, se zasazuje o spravedlivou a efektivní drogovou politiku od roku 1993. Vloni 6. prosince představil ENCOD v Evropském parlamentu v Bruselu manifest, který obsahoval deset doporučení pro Evropskou radu. Tato doporučení byla vypracována Evropským parlamentem už v roce 2004, avšak nikdy nebyla implementována.