HEMP FOR A SUSTAINABLE FUTURE

On Wednesday October 3d, 2007, ENCOD (European Coalition for Just and Effective Drug Policies) and the HEMPFLAX company presented former US president Bill Clinton a letter during his visit to Rotterdam.
Clinton was in Rotterdam upon the invitation of OVG Projectontwikkeling. Clinton held a speech in the building Las Palmas from 13.30 hs onwards concerning the shared responsibilities of individual citizens, companies and authorities to find solutions for problems such as global warming.
HEMPFLAX is specialised in the cultivation and production of hemp products. The company has issued a reward of 100.000 euro for those who can refute a preposition which describes hemp as the most effective remedy against global warming.
ENCOD is a European platform of companies and NGOs that lobbies for rational drug policy. According to ENCOD, the worldwide prohibition of drugs should come to an end, which would allow the creation of workable legal regulations for the production, trade and consumption of hemp.
Currently, the cultivation and use of hemp, also for legal purposes, is actively thwarted by most governments and the United Nations, due to the fact that cannabis, the psycho-active variety of this plant, is illegal.
Hemp, say the organisations in the letter to Clinton, is the answer to our "addiction to oil". It can be grown almost everywhere in the world, is renewable and does not produce any toxic byproducts of emission. Hemp is easy and safe to transport, and generates employment in sustainable agriculture and (small-scale) industry.
The prohibition of cannabis and other drugs is maintained in spite of the fact that this policy causes greater damage than the drugs themselves could ever do, write ENCOD and HEMPFLAX.
Also in Rotterdam, the negative consequences of this repressive drug policy will soon become visible. Lord Mayor Opstelten has announced that before June 1st 2009, 18 of the 62 coffeeshops in the city will have to close down, because they are situated too close to a school. According to ENCOD, this measure will increase public disorder, criminality and risks especially for young people.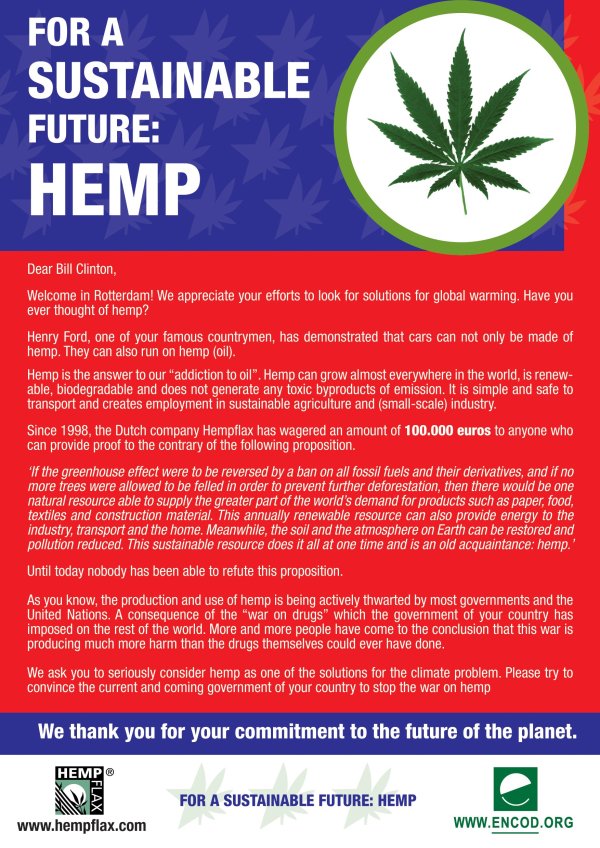 More information on hemp:
On coffeeshop policy in Rotterdam
Vereniging Rotterdamsche Coffeeshop Ondernemers
See also: