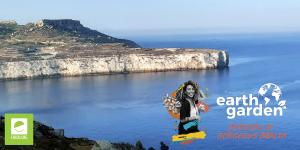 As the festival season kicked-in in Malta, ENCOD participated at the first harm reduction booth set up at Earth Garden festival. Organised from 3rd to 5th of June, Earth Garden Festival is synonymous with the local entertainment scene and provides a family friendly atmosphere to those visiting the festival grounds. Spread over three days and including the participation of numerous local and foreign artists, the festival attracted thousands of people throughout the weekend. The different music genres, information stalls, but also a number of workshops addressing health and well-being facilitated an innovative educational and talking hub.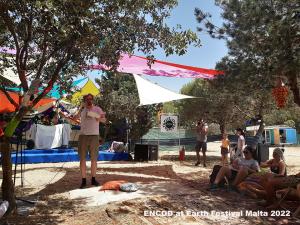 ENCOD's new president Dr Fabian Steinmetz delivered a very well attended workshop on cannabis quality and transparency. Dr Steinmetz congratulated Malta for the historic legislative change decriminalising cannabis, and the possibility to establish non-profit cannabis associations, like ENCOD's own Cannabis Social Club model. He spoke about the importance of promoting an educated approach, especially for those who have found a new passion for horticulture and anything green. Focusing on the role of education and knowledge about different risks associated with home growing, the ENCOD President highlighted the importance of identifying possible contamination of cannabis and bioburden (presence of microorganisms), especially in country's prone to humid weather and thus increased risk of mold, as is the case in Malta.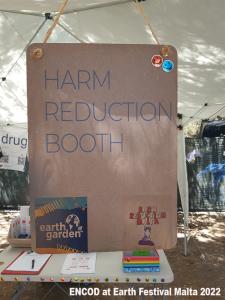 The Harm Reduction booth, sponsored by the University of Greenwich, was set up by ENCOD member Ms Karen Mamo who for the past couple of years has been pushing for a humane and a harm reduction approach for drug use in Malta. Through the facebook page Harm Reduction Malta, Karen is the first local researcher to advance a human rights-based approach to drug policy and is further advocating for the rights of people who use drugs.  Together with Dr Giulia Zampini – founder of the People and Dancefloors project, Karen spoke about the nexus between drugs in society, education and public health.  
During the visit to Malta, President Steinmetz also used the opportunity to meet with Ms Mariella Dimech, Chairperson of the Authority for the Responsible Use of Cannabis, whereby discussions revolved around the role of testing and the dialogue between cannabis growers, consumers, and authorities.  
ENCOD's participation was covered by the excellently penned article No more 'war': reducing harm is the new language on drugs, written by journalist Maya Dimitrijevic, working with one of the leading newspapers in Malta, MaltaToday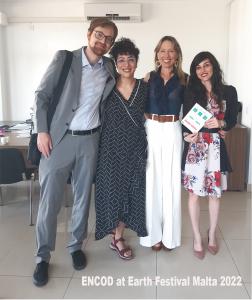 In the picture from left to right:
Dr Fabian Steinmetz, ENCOD, Schildower Kreis, LEAP Germany, Delphic HSE
Dr Giulia Zampini, senior lecturer University of Greenwich and founder of People and Dancefloors project.
Ms Mariella Dimech, Chairperson of the Authority for the Responsible Use of Cannabis.
Ms Karen Mamo, researcher and promoter of Harm Reduction in Malta, and member of ENCOD since 2019.